Gary Hirshberg tour

Join US natural product industry leaders for the 3rd annual Hirshberg Entrepreneurship Institute
BUILDING YOUR BUSINESS FOR DOMESTIC AND EXPORT MARKETS
19-20 November 2019
Orakei Bay, 231 Orakei Rd, Remuera, Auckland, New Zealand
Long-time U.S. Natural Products leader Gary Hirshberg (and colleagues) once more brings his Entrepreneurship Institute to New Zealand.
This two-day boot camp is based on decades of experience in helping Natural Products entrepreneurs grow successful enterprises and learn the basics of how to break into the U.S. market.
---
View and download the programme here.
---
ABOUT THE HIRSHBERG ENTREPRENEURSHIP INSTITUTE (HEI)

For nearly 20 years, HEI has offered thousands of business leaders practical, hands-on advice about financing, sales, marketing, eComm, organisational challenges, finding personal balance, managing change, and key concerns that are fundamental to growing an enterprise in today's competitive marketplace.
The Auckland HEI brings together U.S. and N.Z. business leaders to help companies large and small "up your game", whether you are seeking to export of just grow a healthy, sustainable business.
Ninety-eight per cent of participants have rated the Institute either excellent or very good in terms of:
Applicability of sessions to their work

 

Introduction of innovative business strategies
Overall knowledge and experience of panelists
Interaction and learning from participants
Fulfilment of learning expectations
Access to new contacts and networks
---
SEE WHAT PREVIOUS ATTENDEES HAVE SAID
---
---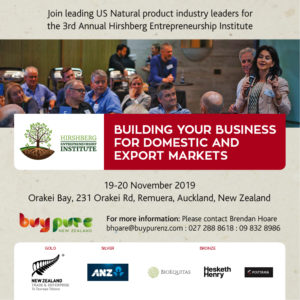 FOR MORE INFORMATION OR TO REGISTER
View the programme here.
Download a registration form or contact Brendan Hoare:
027 288 8618 : 09 832 8986
By registering for this event, you are agreeing to Buy Pure New Zealand's Terms of Trade. Please read them carefully.
---
Buy Pure New Zealand is registered as a Service Provider with the Regional Business Partner Network supported by New Zealand Trade and Enterprise (NZTE) and Callaghan Innovation.This can be used to cover up to 50% of the full cost of this programme.
---